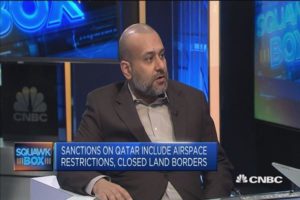 Qatar is looking to Asia for foreign investment in a "new era" for the country, following the blockade by a number of major Arab nations in June last year.
Yousuf Mohamed Al-Jaida, the CEO of the Qatar Financial Center, a business and financial center located in Doha, told CNBC Friday that the country has moved to attract foreign investment by making it easier to get business visas and buy real estate.
"Qatar is looking for new partners, new alliances, so we are moving on," he said.
"Our presence in Hong Kong speaks a lot. We're going to be doing a lot of more tours in Asia, Thailand, Vietnam, within the next two months," he added.
Saudi Arabia, United Arab Emirates, Bahrain, and Egypt imposed trade and travel bans on Qatar in 2017, blaming the country for supporting terrorism.
The Qatar Financial Center, which aims to foster investment in Qatar, has been explaining to foreign investors that, after the deterioration of relations between Qatar and other Arabic countries, the country has been putting forward a slew of reforms to adapt to a "new reality."
"The appetite is good, I think we have to do a lot more of awareness as to what the blockade means. What we are trying to pitch in terms of the blockade is that this is a new era for Qatar," Al-Jaida said.
Source: CNBC